What Should I Look for in a Golf Bag?
Selecting the right golf bag is unique to each person, depending on your style of play and how you approach the course. With a wide variety of golf bags to choose from, you'll need to ask some honest questions about your game in order to find the perfect bag for you.
The most basic question to consider is whether you tend to walk the course or use a cart. Carry bags, or bags that are designed for a stand, will be more lightweight and less cumbersome, but also tend to have fewer "extras". A golf bag designed to ride in a cart will be heavier and have fewer carry straps, but typically has more features overall.
If you play golf often, you'll need a tougher golf bag made with thick, durable materials to stand up to frequent use. These bags tend to come at a higher price. You can most likely get away with a less expensive golf bag if you only get out a few times a year.
Another thing to consider is what kind of club storage you need. Think about how many clubs you have, and what you normally like to carry with you. Consider what clubs you may add in the near future, and purchase a bag that will provide ample room for this expansion.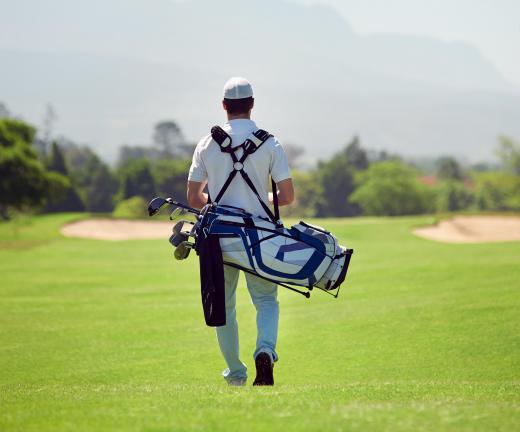 Make sure that your golf bag accommodates the unique specifications of your golf clubs. The bag should be the proper height to cover all your clubs securely, with no chance they may slide out or get damaged. The width at the top of the bag should provide enough room to fit oversized club heads or grips.
If you have an expensive set of golf clubs, consider full length club divider pockets in your bag. These individual dividers organize and protect clubs, but can add significantly to the weight and price of the golf bag.
Think beyond your clubs and consider other items that you tend to keep in your golf bag. Many bags feature additional pockets for accessories, including specific umbrella sheaths, water bottle holders, towel hooks and scorecard clips. Some bags even have special storage for golf shoes when not in use.
Regardless of how often you play, you'll want to look for a design that feels comfortable to you. Almost all golf bags are designed with ergonomics in mind, so there are many good choices at a variety of price points. Whether you carry the bag or not, make sure that the straps and handles are strong enough for the amount of clubs and additional gear that you bring. Try to look for a golf bag with a guarantee against defective workmanship to protect your investment.
AS FEATURED ON:
AS FEATURED ON:

By: Denis Gladkiy

Some golf bags will be designed to ride in a golf cart.

By: Warren Goldswain

Golfers who play on a regular basis should choose a sturdy, well-made golf bag.