What Are the Best Golf Stretching Exercises?
The golf swing is a more physically demanding task than most people realize. It incorporates muscles throughout the body, especially those in the upper legs, abdomen, shoulders, and back. Engaging in safe golf stretching exercises before a round or a trip to the driving range can reduce the risk of injury and actually improve performance. Beginners, elite professionals, and golfers of any ability in between can benefit from simple upper and lower body stretches.
Before performing any golf stretching exercises, a person should know his or her physical limitations. An individual with a stiff back or a bad shoulder may still be able to play golf, but certain stretching exercises could potentially do more harm than good. It is important to start stretching lightly and stop immediately if any pain arises. Many stretches can be adjusted to accommodate weak joints or injured muscles.
One of the most effective golf stretching exercises is a simple shoulder flexibility routine. While standing, one arm is extended forward at shoulder height. Keeping the hips and shoulders straight, the free arm is used to pull the outstretched arm across the chest as far as comfortably possible. The position should be held for about 10 seconds, and then repeated with other arm. The activity is an excellent, easy way to increase flexibility in the shoulders and upper back. When the shoulder muscles are loosened up before a round, it is easier to make a full turn during the backswing and get more power on the downswing.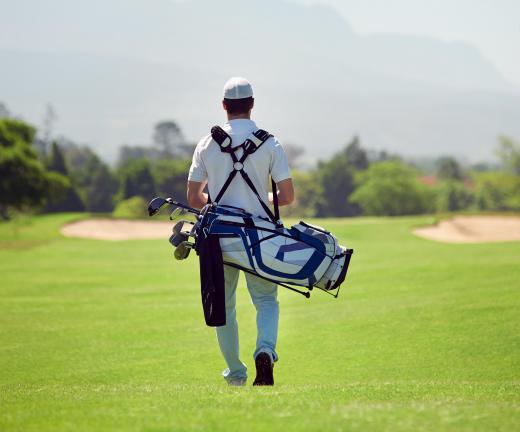 The lower back plays a significant role in the golf swing, and is also the root of many golfers' persistent pain. Lower back golf stretching exercises before a round can help prevent chronic soreness and stiffness. A person can lie on his or her back with the legs comfortably extended. The knees are then flexed and the feet pulled toward the buttocks. The hands can help bring the feet closer by gently pulling on the thighs. Like the shoulder exercise, the final position should be held for about 10 seconds and the activity repeated several times.
Standing quadriceps pulls are very effective golf stretching exercises for the upper legs. With one hand placed on a table or wall for balance, a person bends one knee and brings the foot upward behind the buttocks. The free hand grabs the foot to promote a long stretch, and the position is held and then repeated for the other leg. Quadriceps stretches help the legs provide better stability and deliver more power during the golf swing.
Several other common exercises can also be helpful, such as standard lunges, calf stretches, and toe touches. Many golfers take advantage of their stretching time by getting ready mentally as well, honing their focus and preparing for their first hole. Developing proper stretching technique and concentration skills sets the stage for an enjoyable outing.
Regularly practicing on the best indoor putting green sharpens your golf game and promotes overall health. The repetitive motions engage muscles in the arms, shoulders, and core, improving coordination, flexibility, and balance. It's a low-impact exercise that burns calories, maintains cardiovascular fitness, and reduces stress. Whether you're a seasoned golfer or just starting, this enjoyable activity is a win-win for both your game and your well-being.
AS FEATURED ON:
AS FEATURED ON:

By: Malcolm Boyd

Proper golf stretching exercises can help improve strength and range of motion, as well as preventing injuries.

By: Warren Goldswain

Some golfers practice yoga or pilates stretches that foster greater agility and flexibility.