What are Golf Club Head Covers?
Golf club head covers are protective covers that slide over the head of a golf club. There are so many different styles and designs that at first glance, it may seem they are more of a novelty item than a piece of golf equipment. However, clubs are expensive and covers are designed to protect them. The added element of a wide array of styles is just a fun advantage that head covers have over other types of sporting accessories.
There are several different designs of covers for golf club heads. Some are novelty designs and others are merely stylish and basic. Covers are made of rubber, neoprene, and leather, among other materials. The selection is really a matter of choice and personal preference.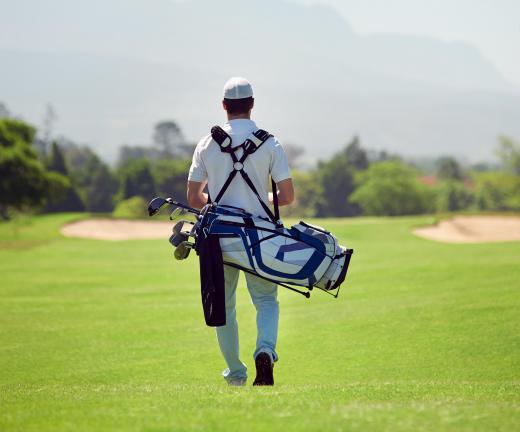 Some head covers are designed to stretch over the head, while others may zip on and off. The application and removal of head covers for frequently used clubs is an important consideration when purchasing them. If the covers are difficult to remove and replace, they will become more of a nuisance than a help.
Golf club head covers are specially designed for each type of club and made to specially fit putters, irons and woods. There are covers available to suit nearly any personality or interest. Some represent favorite sports teams, while others may simply reflect a favorite name brand or color.
Typically, the covers for woods are the novelty head covers you might see on the course. Novelty golf club head covers from animals to cartoon characters can be found at pro shops and online stores. Licensed characters you might see during a Ladies Professional Golf Association (LPGA) tour include Betty Boop and The Pink Panther. Though covers were originally designed for the specific purpose of protecting the clubs, the choice of styles keeps things interesting and personal. Club covers might give some insight into a golfer's personality, hobbies, or style and allow players to express themselves in a fun and fashionable, yet practical way.
AS FEATURED ON:
AS FEATURED ON:

By: Warren Goldswain

Most head covers for golf clubs are designed to fit specific clubs, such as an iron or a putter.